Our LUG EUROPA brand specializes in highly robust professional luggage. We have developed different ranges for demanding professionals for whom their baggage is a real working tool:  emergency teams, postal distribution teams, train crews and maintenance technicians (more info about LUG EUROPA ranges).
These intensive-use luggage ranges are designed by our Design Office and undergo tests in the laboratory and in the field to guarantee their reliability and robustness.
Our guiding principle
One rule, which we base on a single very simple principle and which we follow, no matter which industry we're working for.
CARRY (FR : porter)
You have confined space issue; your teams carry around professional equipments adapted to your activity.
We take into account the ergonomic aspects. You help us understand your use.
Our Research & Development Department puts forward professional portage solutions.
PROTECT (FR : protéger)
Your equipment must be protected of all external aggressions.
The LugEuropa range of products is made up of solutions that guarantee an optimal protection; thanks to high resistant fabric, that provides comfort and easiness of use (more info about the components of LUG EUROPA luggage).
PRESENT (FR : présenter)
You are concerned with the easiness of use for a quick use.
Our products are conceived with tailor-made improvements and can be adjustable. The security aspect is insured by external retro reflective strips.
Moreover, the logo of your company can appear on the product thanks to different techniques of silkscreen printing (more info).
Our quality commitments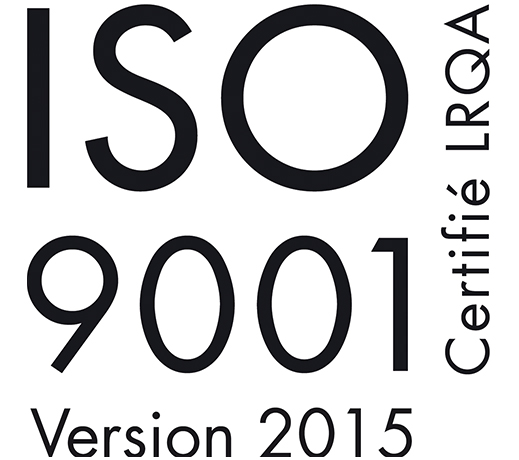 Since 1998, the company TOP BAGAGE has developed its Quality Approach. The conception and application of a Quality Plan have allowed us to reply to tenders launched by important customers and to obtain certifications.
Given the fact that we develop long-term projects for the professionals, we attach a great importance to the quality of our products and services.
Our success/presence on the market can be conceived only through our customers' satisfaction and contentment.
Here below a proof of our engagement – the Certificate of Approval delivered by LRQA (Lloyd's Register Quality Assurance).
Our organisation
Our commercial approach
Our Commercial process allows us to define the customers' expressed demand. Our commercial has to help you to find the standard or made-to-measure solution which to fits your needs. Next, he starts our internal processes.
All this informations gathered during meetings with our customers is recorded in a "Specification" document transmitted to the Research and Development Department. 
Our design, manufacture and control processes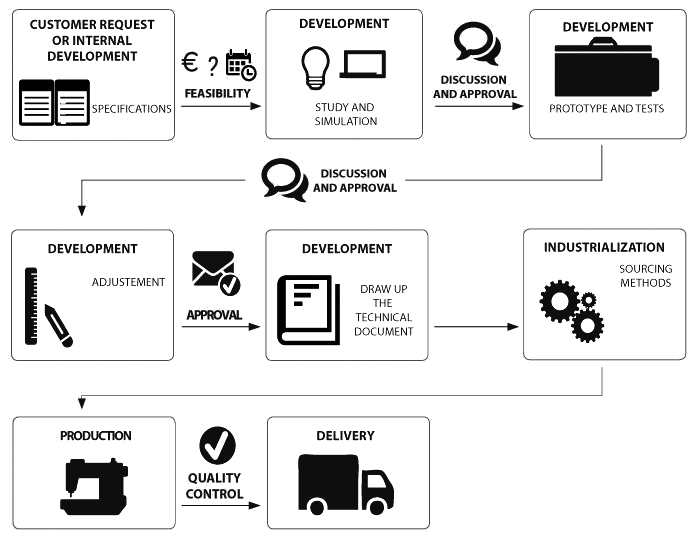 Our world presence
Being close to our customers has always been our major concern. That is why TOP BAGAGE INTERNATIONAL consists of several commercial entities in Europe.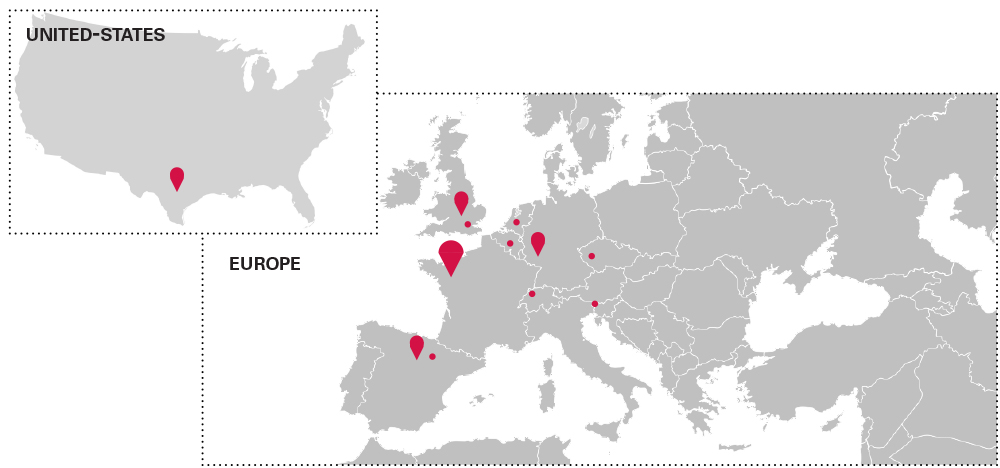 France : manufacture / head office / stocks
    Germany, England, Spain : Subsidiaries (Bag Pro GmbH, WSA, Top Bagage Ibérica)
   Czech Republic, Croatia, Belgium, Netherlands, Swiss, England, Spain : distributors